We continue our series of how to buy gold and silver. At some stage during your exciting adventure of investing in physical gold, you will be confronted with the decision of gold bars vs gold coins. If you decide on buying gold bars you have more options as well. In this article, we focus on buying gold bars and specifically Gold Cast Bars vs Gold Minted Bars. 
Gold bullion is refined and transformed into bars, coins and rounds. According to the World Gold Council, small bars and coins accounted for approximately two-thirds of the yearly investment gold. The demand for gold bars and coins have quadrupled since the early 2000's.
Of course, your goal is important when considering buying gold as well as your available funds. For example, you may be interested in collecting scarce gold coins or you enjoy building a series of collections of a certain gold coin from a certain Mint like the Gold Britannia coin which regularly changes their reverse design.  Or your only goal might be to accumulate as much gold as possible at the lowest premium price as possible.  
Gold bars are widely known as the preferred method of accumulating physical gold due to its low premium above the gold spot price. This can be a bit generalized because certain Minted gold bars can carry a high premium above the gold spot price. The premium that you pay is dependent upon the bar design and production process of the gold bar.  
Gold bars' features 
We tend to think of gold bars as rectangular shaped "bricks" of gold. In reality, gold bars can be manufactured in any shape. Gold bars manufactured worldwide can vary greatly depending on the type of gold bar and the manufacturer.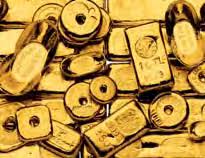 Refiners manufacture standard gold bars as well as customized bars for certain customers like banks where the bank's name and logo will be visible on the bar as well as the accompanying certificate. 
Most standard gold bars have the following characteristics: 
Manufactured in accordance with certain standards;
Certification mark of the refiner (engraved on the bar or accompanied by a certificate);
Registered serial number that matches the accompanying certificate;
Bar Purity: Gold purity is normally marked in parts gold per 100, 1000, or 10,000 parts. Investment bars should be at least 99.5% pure gold;
Denomination or units of weight according to the preference of the different regions or countries. The most prominent units are gram, troy ounce, tola, tael, baht, chi, don and mesghal. 

Good Delivery Bars
The gold futures contracts and gold certificates that are being traded on the major exchanges are concluded with physical gold. The internationally accepted standard of the physical gold that has to be delivered is Good Delivery Bars.
Good Delivery Bars have to be manufactured in accordance with certain standards by accredited refiners. Accreditation is provided by the following major exchanges and bodies of whom the most important is the London Bullion Market Association (LBMA) others are: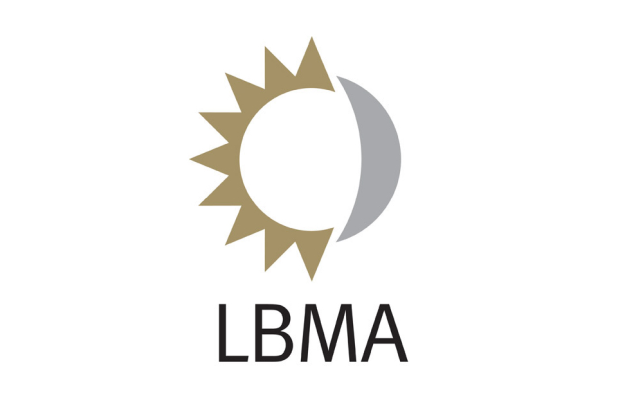 CME Group of the COMEX market contract
Tokyo Commodity Exchange (TOCOM) 
Dubai Multi Commodities Centre (DMCC)
Other exchanges focus on the accreditation of their domestic refiners or rely on the LMBA accreditation. These are:
BM&FBovespa, São Paulo (BM&F)
Istanbul Gold Exchange (IGE)
Multi Commodity Exchange of India Ltd (MCX)
Shanghai Gold Exchange (SGE)
The Chinese Gold & Silver Exchange Society, Hong Kong (CGSE).
The Good Delivery Certificate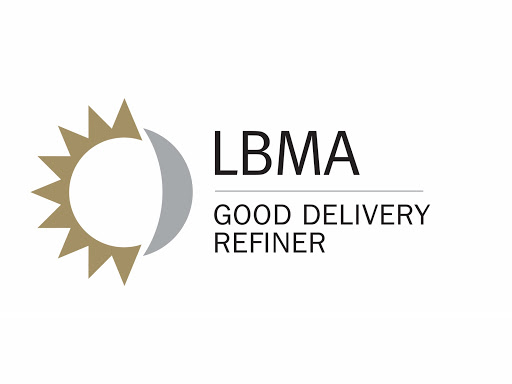 The Good Delivery Certificate is issued by the LBMA to refiners that qualify to be published on the Good Delivery List. The criteria that a refiner must comply with is: 
Proven experience of at least 3 years in the production of refined metal;
Must produce at least 10 tonnes of gold;
Have a total net asset value of at least 10 million pounds;
Be able to provide proof of ownership and shareholding structure.
These refiners are subject to regular quality checks to remain accredited for Good Delivery gold. 
Good Delivery Bars Specifications
A good delivery bar is marked with:
The fineness of at least 99.5% gold
The year of production;
The serial number;
The refiners assay stamp.
The minimum gold content of a good deliver range from:
Minimum – 350 troy ounces (10.9kg)
Maximum – 430 troy ounces (13.4kg) 
The most traded Good Delivery Gold Gold Bar is a 400 troy ounce bar. This is the standard bar held by Central Banks. 
Good delivery bars are cast bars. 

Gold Cast bars 
Cast bars are the end result of the traditional method of manufacturing gold bars. Casting bars also known as "molded" or "poured" bars is the simplest and cheapest way to manufacture gold bars.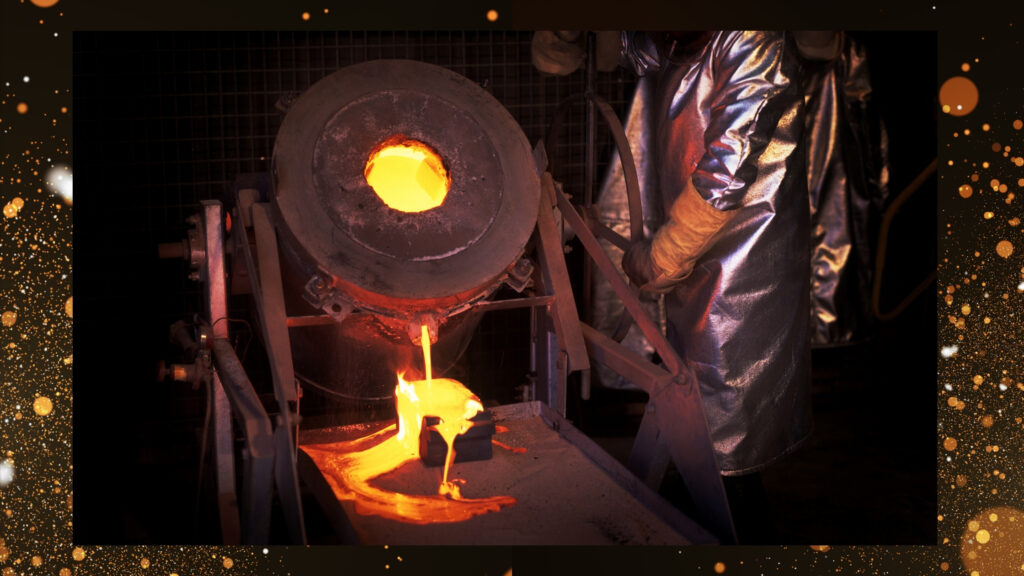 The production technique basically follows the same method that was used for thousands of years. It starts with building molds in the desired design and shape. Metal is then heated into a liquid form and then poured into the mold. The metal solidifies and cools quickly from where it is popped out. 
A modern method of producing casted bars is described by passing melted gold through a die with a specified width and thickness. These dies are clamped between cooling blocks in a continuous casting process. – goldbarsworldwide 
The end result of a manufactured cast bar – its appearance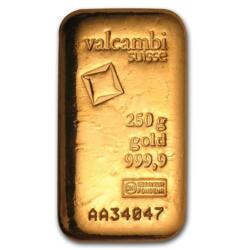 Cast bars appear rough and rugged. 
The top of the molds is open to facilitate the removal of the bars. This results in the top surface of the bar being smooth. 
The sides and bottom of the bar which were in contact with the mold are usually relatively rough. 
The markings on the bars are basic. Normally the manufacturer and the bar details. These may be designed in the mold or pressed on later.
Each bar manufactured has its own unique markings from the abnormalities and blemishes from the pouring process. The unique characteristics of each bar is an attractive attribute for many gold buyers. 
Pros of cast gold bars 
Cast bars' beauty lies in its simplicity. It is the cheapest method of producing gold.
Its popularity stems from the cost-savings achieved in the manufacturing process which results in a much lower price that is being paid for the gold weight. 
Each bar manufactured is unique. Many investors turn into collectors that place a value on the uniqueness of the gold bar. 
Cast bars can be manufactured in all sizes and shapes which is ideal for industrial fabrication and jewelers. 
Cast bars can be handled and touched and require less packaging. If you want to hold your gold and feel it, cast bars are the way to go. 
Cons of cast gold bars
Gold Cast bars are simply engraved with only a few markings. Its simplicity with very limited security features may result in cast bars being easy to counterfeit. The security risk is mitigated by manufacturers engraving and recording the bar's serial number. This is an important check to be performed when buying gold bars. 
Cast bars appear rugged and rough and may not be preferred by investors looking for neat, shining looking bars. 
Cast bars have limited or no artistic value. From an aesthetic standpoint, it adds little value to the gold bar. 
Gold Minted bars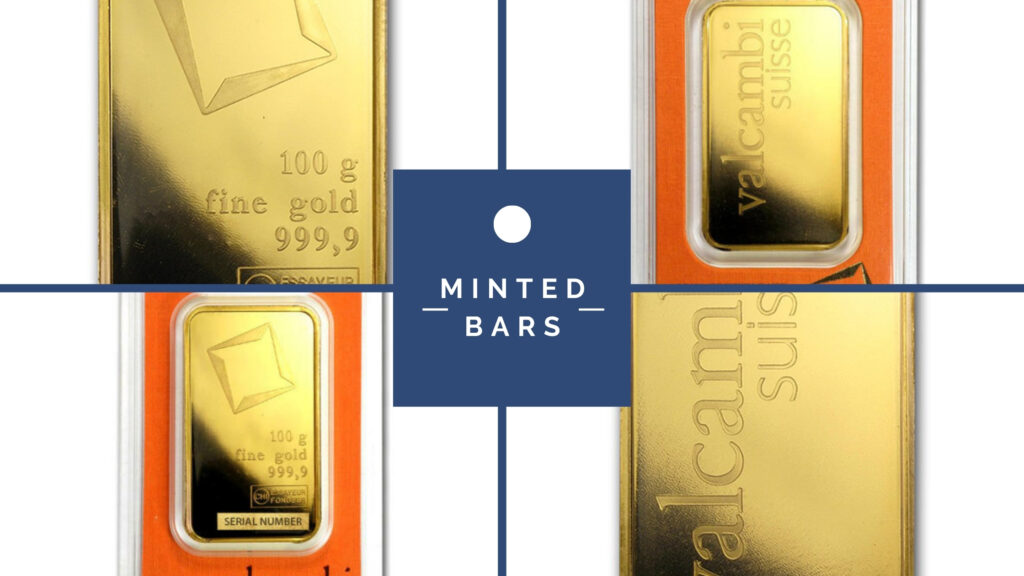 Mostly minted gold bars start their lives as Cast Bars. Several steps are added to the process of producing a gold minted bar which is:
Brighter and cleaner than a cast bar;
The surfaces are smooth and even on all the sides;
More uniform in appearance, size and shape;
With more intricate designs and markings.   
The manufacturing process of gold minted bars. 
One common method of producing mint bars is to roll a cast bar into a uniform thickness. Another method is to produce a long strip of metal in the casting process. Bars are then cut with a die from these strips to create blanks according to a prerequisite dimension and weight. 
Bars are then moved to a furnace to soften the metal where the striking of designs take place. The bars' surfaces are then polished, cleaned and dried. From there it is packaged and sealed. 
Pros of Minted Bars
Minted bars' beauty lies in its intricate designs, artwork and attention to detail of the gold bar. 
Added security features can be incorporated into the manufacturing process of the gold bar making it more difficult to counterfeit. 
Certain Minted bars receive the same attention in the designs and manufacturing process as coins resulting in collectors value of these bars. 
Minted bars are often sealed with a certificate integrated into a protective sealed packaging making these bars easier to sell. 
Minted bars are very popular and are regarded as more valuable than cast bars. This feature of the minted bar makes it easier to sell at a higher value.   
Minted bars of a certain range manufactured by the same refinery has a uniform appearance and are therefore easily identifiable when trading these gold bars. 
Cons of Minted bars
Minted gold bars are designed by artists. Special dies have to be built and then several steps are added to the manufacturing process. These bars require special packaging. All of this adds to the cost of the bar which becomes more pricey for gold investors as these bars trade at a higher premium above the gold spot price. 
Minted gold bars require careful handling as fingerprints or even small marks diminishes the value of the bar.   
Stacking of minted gold bars is more difficult as you cannot touch these bars with your hands. 

Conclusion 
Gold bars are popular choices for investors in physical gold because they trade at lower premiums above the gold spot price. 
Gold bars are manufactured in various sizes and shapes with the price based on the weight and purity of gold. Smaller bars like the 100g bar are affordable and popular to trade with. 
Gold Cast Bars trade at lower premiums above the gold spot price but have less value. Cast bars are the preferred choice for people who are solely interested in buying gold metal in bulk. 
Gold Minted Bars are artistically more beautiful and carry a higher price above the gold spot price due to the more complex manufacturing process and sealed packaging. Minted bars trade at higher values but cost more. 
The choice of Gold Cast Bars vs Gold Minted Bars comes down to individual preference. Gold is gold and both cast bars and minted bars are excellent choices when a person is looking to buy gold to store value and diversify investments for protection against inflation.